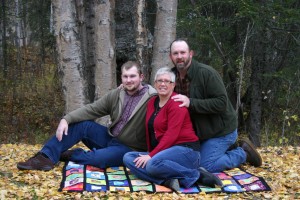 Dear Friend,
My name is Walter Chastain. I, along with my wife, Sherry,  and our son, Andy, am the director of LaVerne Griffin Youth Recreation Camp.  We were led here by God from our home state of Georgia in October 2005.  After 10 years at the camp, we are still excited to see what God is doing here at the camp, in our lives and in the lives of those we meet!
This camp is a special place. It is in a beautiful setting situated on 58 acres of spruce- and birch-covered forest and joins the 125-acre Lake Kalmbach. We have the occasional moose wander through along with regular visits from eagles and in summer there are plenty of loons on the lake. God's presence certainly abounds here at LGYRC!
I want to take this opportunity to invite you to come and join us here at the camp. We offer full-service and self-service use of the facilities year-round for individuals, families and groups. During the summer we host several camps offered by the Chugach Baptist Association. We also host mission teams from around the country. We can be your home away from home when you are in the area on mission.
Come visit us and leave the stress and pressures of everyday life behind! We hope that you too will find that LaVerne Griffin Youth Recreation Camp is a place where God's presence is found.
In Christ,
Walter Chastain